As the College baseball season is drawing to a close, Baseball America has released its top 400 prospects for the 2023 Draft. The Valley Baseball League has 13 former players that made the list this year, and they are as follows:
#3 Wyatt Langford–University of Florida (Charlottesville, 2021)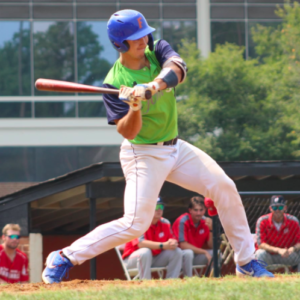 Wyatt has been one of the top two collegiate hitters for the past two years as he ranks only behind LSU slugger Dylan Crews. Wyatt came to the Valley in 2021 and played for the Charlottesville TomSox. He was named the #10 Hitter in the VBL following his summer performance hitting .345/.459/.527 in 110 at-bats, with 21 runs scored, 20 RBIs, seven doubles, two triples, three home runs, 20/26 BB/K, and six stolen bases without getting caught. Now it might be surprising that the #3 overall prospect according to Baseball America was the #10 hitter in the VBL, but he came to the TomSox prior to his breakout at the University of Florida. Some might even say that it was the magic of the VBL that propelled his career.
Currently for the Gators, Wyatt is leading the team in AVG, hitting at a .397 clip. He has 10 bombs, and 14 doubles to go along with that Average as well.  He has also demonstrated his keen batting eye with a 38/24 walk to Strikeout ratio. You can count on Wyatt being a name called very early in the upcoming 2023 MLB Draft.
#13 Rhett Lowder–Wake Forrest University (Strasburg, 2021)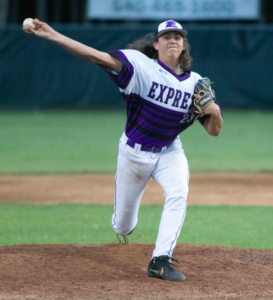 While Rhett is one of the top Starting pitchers in all of college baseball, he may be more recognizable by his signature flowing locks. The Wake Forrest product has been one of the most consistently dominate RHP in college baseball the last two years. Prior to his ascendency over ACC hitters, he did the same in the VBL. During the 2021 season, Rhett was named the #1 Starting pitcher in the VBL according to All Things Valley League. Rhett features some of the best stuff in all of college baseball. He runs his Fastball in the mid to upper 90s combined with a devastating changeup and breaking ball. It is no wonder why he is considered a top prospect for the 2023 Draft.
This season for the Demon Deacons, Lowder has amassed 81 Strikeouts over 68.2 innings with a paltry ERA of 1.83. Last season, Rhett was named the ACC Pitcher of the Year. It was the first time a Wake Forrest pitcher has ever received the award. Like Langford, it will come as no surprise when the name of Lowder is called early on day one of the Draft.
#48 Jack Hurley–Virginia Tech (Charlottesville, 2018)
The second TomSox to appear on this list is Virginia Tech outfielder, Jack Hurley. Jack broke onto the scene in 2022 with an outstanding offensive season for the Hokies. In '22, Jack hit double digit home runs and stole double digit bags as well. His strong sophomore year set the stage for this year. So far in 2023, Jack is hitting .343 with an OPS of 1.200. He has 15 Home Runs, 14 Doubles, and 42 RBIs for the Hokies.
In terms of his future, Hurley is projected as a true 5-Tool player at the next level. Scouts expect his above average bat to ball skills to translate to the next level, as well as being an above average overall hitter. Scouts have him comparing to guys taken in the late First round of previous drafts. While its unknown when or where he will be taken, Jack's name will definitely be called on to continue his baseball journey in the professional ranks.
#113 Cole Foster–Auburn University (Charlottesville, 2021)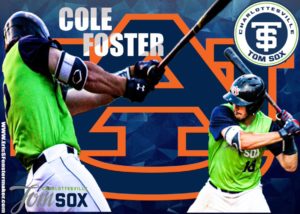 The 2021 TomSox continue to produce top prospects for the 2023 draft. This time from Auburn University comes Cole Foster. The sweet swinging Shortstop was 2nd ranked SS in the state of Texas for the class of 2020. Unfortunately for Foster, that year's draft was shortened to only 5 rounds. Cole took his talents to Auburn where he has consistently developed since arriving day one.
So far this season, over 41 games, Cole is hitting .327 with 7 homeruns, 11 doubles, and 35 RBI while playing strong defense for the Tigers. Cole is expected to be around a third-round pick up in this summer's draft.
#148 Cooper Ingle–Clemson University (Charlottesville, 2021)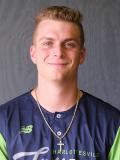 Cooper Ingle, the lefthand hitting backstop for Clemson Tigers, is another TomSox player named as a top prospect for 2023. While his time in the Valley was limited, Ingle hit .250 over the course of 6 games. 2022 was a breakout year for Ingle and 2023 has been another productive year for him as he continues to make strides towards professional baseball. This year, Cooper is hitting .326 over 181 at-bats with 5 home runs and 11 Doubles. He has also drawn 26 walks with striking out only 19 times.
#198 Zach Levenson–Miami University (Waynesboro, 2021)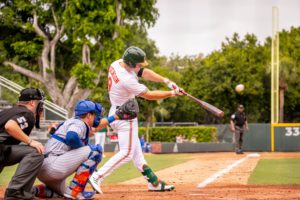 The next former VBLer on the list is current Miami University's slugger Zach Levenson. Levenson played for the Waynesboro Generals during the 2021 season prior to his enrollment at "The U." Levenson was then a member of the Seminole State Raiders. Zach got off to a hot start for the Generals in '21. So good, that he was able to parlay that into an offer from the University of Miami. He was also the Champion of the Home Run derby that summer as well–belting 24 Homers over the course of the event.
Since then, he has shown that Miami was smart to take him when they had the opportunity. In his two years at Miami, Zach which has amounted to 95 games played, he has combined to hit .297 with 16 home runs, 17 Doubles, and 70 RBI.
#199 Sabin Ceballos–Oregon University (Winchester, 2021)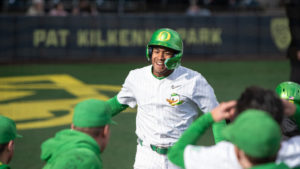 Sabin Ceballos, product of San Jacinto CC and hailing from Rio Grande, Puerto Rico is the next up on the top prospect list. Sabin came to the Royals in 2021 as a corner infielder known for the howitzer attached to his body that doubles as his right arm. During his two-year career at San Jacinto, Sabin batted .341 (141-for-413) with 17 home runs, six triples, 28 doubles, 102 RBI, 109 runs scored, 89 walks, 21 hit-by-pitches and 14 stolen bases. Those totals we good enough to be selected in the 14th Round (418 overall) of the 2022 MLB Draft by the Los Angles Angels. Ceballos opted to return to college baseball in lieu of professional baseball and signed with the Oregon Ducks.
Sabin has made the most of his time in Eugene this year. He is currently hitting .331 over 136 at-bats with 11 home runs and 9 doubles. He currently leads the Ducks in RBI with 47 RBIs. He is also sporting a 1:1 walk to strikeout ratio (27BB/27Ks).
It will not be a surprise to hear Sabin's name called again in this summer's draft as well. He has a tremendous future in store for him and he is well regarded by those who paths cross with his.
#242 Sam Knowlton–South Alabama University (Purcellville, 2019)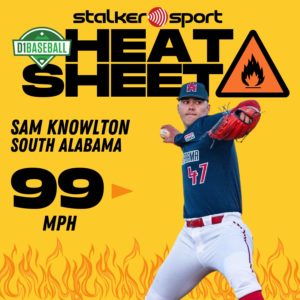 The first Purcellville Cannon to appear on this list in the big fireballer from Warrior, AL and South Alabama University. The 6-8 RHP played for the Cannons during the 2019 season after playing for Pensocola State in the junior college ranks. Sam sustained an arm injury during the 2022 season and this year is his first season back to full health in some years. What makes Sam so attractive to professional organizations is his size, projection, and ability to throw so hard. Knowlton has topped his fastball out at 102mph this year, and he pairs it well with a hard breaking ball.
#251 Seth Keener–Wake Forrest University (New Market, 2021)
Seth Keener came to the New Market Rebels in 2021 from Wake Forrest University. Keener is the second Demon Deacon to be featured in this VBL edition of top prospects, joining Demon Deacon Ace Rhett Lowder. Seth has come a long way from his time in New Market. While he had some success in the VBL, it fails to compare to the year he is having in 2023. So far this spring, Keener is pitching to the tune of an ERA of 0.83 with 56 strikeouts in 43.2 innings pitched mainly in relief for Wake Forrest. The numbers that standout though are his Strikeouts to walks. He is currently posting a 56/9, K/BB ratio. He has appeared in 15 games for Wake, starting 3 of them. He is currently holding opposing hitters to a .158 batting average against (BAA) and has picked up the record of 6-0 on the season.
#301 Wyatt Hudepohl–University of North Carolina Charlotte (Waynesboro, 2021)
The 6-4, 220lbs RHP came to the Valley in 2021 to play for the Waynesboro Generals. Originally from the University of Kentucky, Wyatt appeared in 6 games for the Generals (all in a starting role) and pitched 25 innings. After his time in the Valley, Hudepohl transferred to the University of North Carolina Charlotte. Since coming to the Charlotte 49ers, he has pitched extremely well. Wyatt recently set the program single-game strikeout record with 17 Ks vs Old Dominion University. In 2023, he has started all 11 games in which he has appeared, amassing 84 strikeouts over 72.2 innings pitched, while walking only 18.
It is great to see the former General have success in Charlotte. He was ranked as the No.2 prospect in the state of Ohio coming out of high school. We look forward to hearing his name called this summer in the Draft.
#320 RJ Schreck–Vanderbilt University (Harrisonburg, 2019)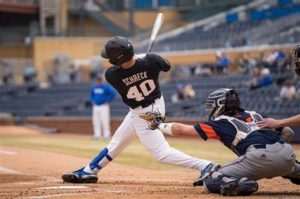 Coming in next on the list is 2019 Harrisonburg Turk, RJ Schreck. In his time in the Valley, he appeared in 22 games while hitting .217 in 69 At-bats with 2 homeruns. RJ was previously at Duke prior to transferring to Vanderbilt for his last year of eligibility as a graduate student. Schreck was originally a walk-on at duke and had to earn his way into a starting role.  RJ had his breakout year in 2021 for the Duke Blue Devils. In '21 he hit .337 with 18 home runs, 11 stolen bases and 52 RBI. The lefty slugger really put his name on the map and put him on the path of professional baseball. Unfortunately, 2022 wasn't the season that he aspired to have. At the conclusion of the down 2022 season, RJ transferred to Vanderbilt and has tapped back into the player he was in '21. So far this spring, RJ is leading the Commadores in the majority of offensive categories. In his 43 games this season, he is hitting .364 with 11 home runs, 14 doubles, and 49 RBIs.
2023 has been a good season for RJ, and it should get his draft stock back up to where he expects it to be. With Lefthand power bats always at a premium, look for a professional organization to take RJ later in the draft.
#340 Martin Gair–Florida Southwestern Junior College (Charlottesville, 2022)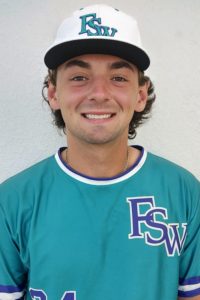 Appearing as the only current Junior college player on this list is the Ace of the Florida Southwestern Bucs–Martin Gair. Gair looks the part of professional pitcher as he stands at 6-6, 235lbs. Along with the impressive physique, come an even more impressive arm. Gair regularly throws in the upper 90s and has thrown as hard as 100mph in a collegiate game. Last summer, Gair appeared in 6 games for the TomSox and struck out 12 in 9.2 innings pitched.
Following the season, Gair took his talents to FL to pitch for former VBL skipper Zac Cole, who had recently taken over the head coaching position there at FSW.  This season can be summed up pretty distinctly for Martin—phenomenal. Marty has appeared in 9 games (all starts) for the Bucs and has an ERA of 1.75 over 36 innings pitched while striking out 52. His coach Zac Cole had very high praise when talking about Gair. "I'll go on record in saying I think he's going to pitch in Major League Baseball one day," Cole said. While the future is uncertain, one thing is not. That being Gair is having an excellent season and garnering a lot of attention from evaluators–both MLB and Division I.
#366 BT Riopelle–University of Florida (Purcellville, 2019)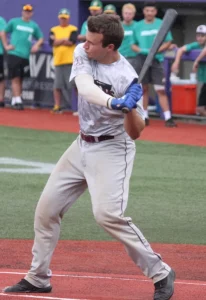 The final Member of this list is BT Riopelle from the University of Florida. BT came to the Cannons in 2019 from Coastal Carolina University. During the 2019 season, BT was one of the most consistent performers in the Cannons lineup. Though he did not arrive in Purcellville until June 15th, having missed the first two weeks of the season, Riopelle was ranked as the #8 Hitter in the VBL that summer by All Things Valley League. BT hit .317 with 6 HRs, 8 Doubles, 2 Triples, 22 RBI, and 7 stolen bases. He finished the season fifth in OPS, sixth in OBP, fourth in Slugging, eighth in walks, and tied for fourth in triples. Not to even mention his outstanding defense behind the dish and his ability to control the opposing teams running game.
Upon returning to Coastal, BT began his emergence as one of the country's best power hitting catchers. After a solid three seasons at Coastal, BT transferred to the University of Florida for the 2022 season. In the SEC and in the line up regularly, Riopelle belted 15 home runs for the Gators. In his collegiate career, BT is hitting .279 with 34 home runs, 137 RBI, and 20 stolen bases.
BT is in his final year of collegiate baseball, and it will be interesting to see what the future holds for him. The lefthand hitting catcher/1st baseman has shown the ability to consistently drive in runs for good teams and against good pitching. We look to see BT drafted in the mid to late rounds of this year's MLB draft.
So, with all 13 above mentioned players, this summer should contain the names on many VBLers. It is great to see the talent that comes to the Valley every summer. It should be noted that every VBL team is looking for Host Families for the Summer. It is a very real possibility that the player you take into your family could very well be on their way to the ranks of professional baseball. If you have any questions about hosing a player, please reach out directly to your nearest VBL franchise.
Thank you to John Leonard for getting this list put together and letting us know about it. Without John, the Valley League would not be the league that it is. His passion for the Valley League is tremendous and his work to document and record the history is unmatched. Thank you, John, for always getting me the information so I can continue to write these articles.