TOM BROWNING
Pitched for New Market in 1980 and 1981… was picked in the 9th round of the 1982 draft by the Cincinnati Reds… made his major league debut on September 9, 1984… pitched in the major leagues for 12 years… finished with a career record of 123-90, 3.94, with exactly 1,000 strikeouts in 1,921 major league innings… won 20 games as a rookie in 1985, and finished second in Rookie of the Year voting and sixth in Cy Young voting… was named to the National League All-Star team in 1991… won his only start in the World Series  in 1990, when the Reds defeated the Oakland A's in four games… was named the Pitcher of the Month in August 1989, and Pitcher of the Week three times… led the National League in games started four times… threw the 12th perfect game in Major League history against the Los Angeles Dodgers on September 16, 1988… retired after the 1995 season… was inducted into the Cincinnati Reds Hall of Fame in 2006.
CURT DUDLEY
Probably the most recognizable voice in the entire league. All who have attended a Turks game or listened to a local radio station in almost the last 40 years would recognize his professional voice… a graduate of Bridgewater College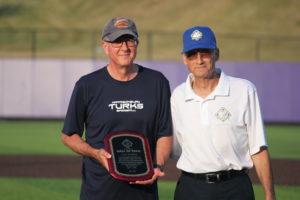 in 1983, Dudley began working for the Harrisonburg Turks in the same year. He became the Public Address Announcer in 1987, making 2021 his 34th year as the Voice of the Turks… supervises teams of interns each summer… served as the League's media and public relations director and statistician from 1993 to 2004, helping to usher the League into the computer age…was the sports information director at Bridgewater College from 1980 to 1988, developing the foundation for what became the first full-time SID position at his alma mater. He was also a part-time announcer for Gilmore and then Verstanding Broadcasting during that same time period…Is the director of Broadcast Services Emeritus (as of June 1, 2021), a role which entailed the traditional responsibilities of a sports information director as well as developing radio programming, assisting with commercial broadcasts and ultimately employing creative ways of using new media as it evolves into multimedia…Before his current role at JMU, he was an assistant sports information director at the university from 1988-2006. He served as the primary contact for baseball, men's cross country and indoor track and field, wrestling, men's and women's swimming and diving, men's tennis and volleyball.  He was the secondary contact for football and men's basketball.  He is a member of the College Sports Information Directors of America, the Virginia Sports Information Directors and the Collegiate Baseball Writers Association. Although retired full-time from JMU, will remain the All-Sports Voice of the Dukes for television and online video productions.
STEVE FINLEY
Coming from Southern Illinois University, played for the Harrisonburg Turks in 1985… played for Team USA in the Amateur World Series in 1986… was drafted by the Baltimore Orioles in 1987… made his major league debut on April 3, 1989… played in the major leagues for 19 years, for eight different organizations… finished his career with 2,548 hits, including 449 doubles, 124 triples, 304 home runs, and 320 stolen bases… is one of only two players in history with 300 home runs, 425 doubles, 100 triples, and 300 stolen bases, joining Willie Mays… was the winner of five Gold Gloves in the outfield, was an All-Star twice (in 1997 and 2000), and received MVP votes after the 1996 and 2004 seasons… won World Series title with Arizona Diamondbacks in 2001… is 78th in career total bases with 4,157.
BRETT GARDNER
Played for New Market in 2003 after his sophomore season at College of Charleston… was drafted by the New York Yankees in the 3rd round in 2005 after a senior season in which he hit .447/.506/.571 and stole 38 bases…made his major league debut on June 30, 2008, stealing a base…has become a mainstay in New York over the last 14 seasons, playing in over 1,600 games… was named to the All-Star game in 2015, and won a Gold Glove in left field in 2016… his 270 steals place him fourth among active players…won a World Series title with the Yankees in 2009… won three American League Player of the Week awards, June 9, 2013, August 3rd, 2014, and June 28, 2015…led the American League with 49 stolen bases in 2011 and ten triples in 2013… is known for his speed and excellent outfield defense.
RUFUS HEATWOLE
Upon his retirement in the 1930's, he was considered the best baseball player to have come from Harrisonburg… played the sport in the Shenandoah Valley for at least 26 years and over 750 games… helped spread the popularity of baseball throughout the Valley…played for Shenandoah College (then located in Dayton, Virginia) in 1919… played for Harrisonburg in the inaugural season of the Shenandoah Valley Baseball League in 1922… played one year of pro ball in 1924… won three titles with Harrisonburg in the Valley League, along with four titles in the Bi-County Series (one with Harrisonburg, two with Dayton, and one with Weyers Cave.
CHARLIE JONES
Owned the Generals in the 70's and 80's, fulfilling many roles, including recruiting, taking tickets at the park, treasurer, and hosting players… had an office in downtown Waynesboro from which he ran the team… some credit him with "saving" baseball in Waynesboro… loved baseball his whole life; he won a trip to New York when he was 12 years old to watch the Yankees (by selling enough copies of the Richmond Times Dispatch), and a Generals hat was placed in his casket upon his death on September 8, 1990…served the US in WWII as one of the Merrill's Marauders in the South-East Asian Theater… worked for Dupont for more than 30 years.
ERIK KRATZ
From Eastern Mennonite University, Kratz played for Waynesboro in 2000 and Harrisonburg in 2001…set an NCAA Division III record for career doubles… picked by the Toronto Blue Jays in the 29th round of the 2002 June Amateur Draft, becoming the first (and only) player from EMU to be drafted… made his major league debut on July 17, 2010, at age 30… went on to play in the majors for parts of 11 seasons, for the Pittsburgh Pirates, Philadelphia Phillies, Toronto Blue Jays, Kansas City Royals, Houston Astros, New York Yankees, Milwaukee Brewers, San Francisco Giants, and Tampa Bay Rays…appeared in 332 major league games, and hit 36 doubles, 31 home runs, and drove in 105 runs… received a World Series ring for his role with the Kansas City Royals in 2015… helped the Brewers advance to the National League Championship Series in 2018 by getting five hits in eight at-bats in the Divisional Series, with a double, run scored, and two RBIs… in an iconic moment in that postseason, a group of Kratz's college friends attended one of the Brewers' home games, each wearing a different major league uniform that Kratz had worn in his career. He was unaware of their plan, and his meeting with them was an emotional moment… in 2019, he was named to the United States national baseball team for the World Baseball Softball Confederation (WBSC) Premier 12 tournament. He batted .381/..435/.714 with two home runs and three RBI, and was named the best catcher in the tournament… was well known as an excellent mentor for young pitchers…retired at age 40 after the 2020 season.
KEITH LUPTON
Was the original owner of the Winchester Royals in 1979… owned the team for three years (1979-1981), and the Royals won the VBL championship each year…35 players were drafted during his ownership… before baseball, was a radio broadcaster in Winchester with WHPL, for which he was a DJ, Manager, Play by PLay Announcer, and Sports Show Host… helped start many franchises, including the Frederick Keys, Bowie Baysox, Delmarva Shorebirds, Lancaster Barnstormers, and Southern Maryland Blue Crabs… spent several years as an associate scout…was Assistant General Manager for seven years with Maryland Baseball and partner company Keystone Baseball and Opening Day Partners… was General Manager of the Frederick Keys from 1989 to 1993, and was named GM of the Year four times, in 1992, 1993, 1996 and 1997…was Senior Vice President of Maryland Baseball, and President of the Maryland Fall Baseball League…was named Executive of the Year in 1999 by the Major League Scouting Association, and also earned honors from the Carolina League, Eastern League, and South Atlantic League… passed away at age 73 on April 12, 2015.
JESSE MONEYMAKER
Historical accounts call him the best pitcher in the first two decades of the Valley League… playing career spanned 15 years between the years of 1921 and 1938…pitched mostly for Harrisonburg and Shenandoah… helped Harrisonburg win two titles and Shenandoah one… a left-hander who befuddled hitters with what he called his "squirrel ball"… was a consistent winner almost to the age of 40… also played in pro ball for three years…managed a semi-pro team in 1948 and 1949.
SCOTT MUSA
Served as the Valley Baseball League Sports Information Director from 2008 to 2012… Helped to usher the league into a partnership with Pointstreak, the current statistics program… He is currently in his 29th year at Shenandoah University in Winchester, Virginia, and his 27th as the Hornet's primary media contact… His primary sport responsibility within communications includes baseball, men's basketball, football, men's and women's golf, softball, men's and women's tennis and volleyball.
REGGIE SANDERS
From Spartanburg Methodist College, Reggie Sanders played for the Winchester Royals in 1987…he was picked in the 7th round of the draft that same summer by the Cincinnati Reds… in 1990, while playing for the Cedar Rapids Reds in the minor leagues, he hit .285 with 17 home runs and 63 RBIs, which led to him being named Midwest League Most Valuable Player. Baseball America named him the league's top prospect as well… after parts of four seasons in the minor leagues, he made his major league debut on August 22, 1991… showed a blend of speed and power in his 17-year career, hitting 305 career home runs and stealing 304 bases, becoming one of only a handful of players to reach 300 of each category… finished fourth in Rookie of the Year voting in 1992… was an All-Star, and finished sixth in Most Valuable Player voting after hitting .306 with 36 doubles, 28 home runs, knocking in 99 runs, and stealing 36 bases in 1995…Played with the Reds from 1991 to 1998, and subsequently played for San Diego, Atlanta, Arizona, San Francisco, Pittsburgh, St,. Louis, and Kansas City… won a World Series with Arizona in 2001, and advanced to the Series twice more, in 2002 with San Francisco and 2004 with St. Louis… won four Player of the Week Awards, in 1995, 1999, 2001, and 2003… was also known as an excellent right fielder… retired at age 39 after the 2007 season.
(Thanks to Teresa Wease and Chaz Weaver's "The Valley Baseball League: A History of Baseball in the Shenandoah Valley" for help!)