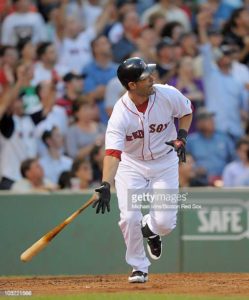 The next to join the Hall of Fame for the Valley Baseball League is 13-year MLB veteran, Mike Lowell. Mike is one of the VBL's more recognizable alums. During his 13-year career, Mike played for the New York Yankees, The Florida Marlins, and the Boston Red Sox. He is currently a commentator for the MLB Network.
Lowell was born in Puerto Rico but moved to Florida at the age of four. He grew up in the Miami and Coral Gables area. It is in Coral Gables that Mike's baseball ability started to shine. In 1992, Mike graduated from Coral Gables Senior High School and was selected in the 1992 MLB draft by the Chicago White Sox in the 48th round but elected not the sign with the club. Having not signed with the White Sox, Mike attended Florida International University (FIU) on an athletic scholarship.
Lowell played for the Waynesboro Generals in 1993 following his freshman campaign for the FIU Panthers where he was named a Freshman All-American. During his time at FIU, he established himself as a standout hitter, collecting more that 70 hits in every season at FIU with a batting average over .300 every year. From '93 to '95, Mike played in 174 games, posting a batting average of .355 and driving in 119 runs. Following the '95 season at FIU, Mike entered the MLB draft and was taken in the 20th round, pick 562 by the New York Yankees.
Mike's time in the minors was relatively short. He spent the '95 to '98 seasons in the minors and received his MLB callup to the Yankees on September 13, 1998. While his time with the Yankees was short, he did win a world series ring with the Yankees in 1998.
In 1999, Lowell was traded to the Florida Marlins. The trade set up his 7-year, 981 games played, career in Florida that established him as one of the league's premier third baseman. In 2003, he won another World Series Championship, this time with the Marlins. Lowell was a force on that '03 Marlins team–hitting 32 Homeruns and driving in 105 runs.
In 2006, Mike was traded to the Boston Red Sox. He made an immediate impact with the Sox as he posted a career best .324 Batting average with 21 Homeruns and 120 RBI. In the '07 postseason, Lowell played in 14 games, hitting 2 home runs, 7 doubles, and 15 RBI. In the World Series verses the Colorado Rockies, Mike won the MVP as his Red Sox swept in 4 games.
Lowell retired following the 2010 season and has gone on to be inducted into the FIU, Cape Cod, and Red Sox Hall of Fames. It is with great pleasure that the Valley Baseball League can now be added to the list. Welcome to the Valley Baseball League Hall of Fame Mike!!