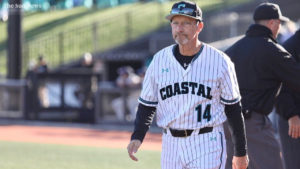 Head Coach of the 2016 College World Series Champions, Gary Gilmore, will be inducted into the Valley Baseball League Hall of Fame this summer. Gilmore has had a long and very successful career in College Baseball. Before he began filling out the lineup cards, Gary was a very accomplished player. A native of Franklin County, VA Gilmore played for two years for Coastal Carolina University and hit .353 with 69 steals over 90 games.
Following his playing days, Gary served as a scout for the Seattle Mariners and the Cleveland Indians in the early 1980s. In 1982, Gary left the scouting ranks and became a physical education teacher at Deep Creek Elementary School in South Carolina. He became the head coach of Pleasant Hill High School in the 1984. His first opportunity in the College coaching ranks came in 1986 when he left Pleasant Hill to take an assistant coaching position at Division II USC Aiken. He was quickly promoted to head coach prior to the start of the 1990 season. His tenure in Aiken led to a record of 253-102-2 until he was afforded the opportunity to take over as the Head Coach of Coastal Carolina University in 1996.
Upon his return to his alma mater, Gary has amassed a career record of 1,290-651-5 and still counting. The Chanticleers have reached a NCAA Regional 16 times, a Super Regional 3 Times, the College World Series once, and Won the College World Series in 2016. Throughout his years at the helm of the Chanticleers and the USC Aiken Pacers he has always been a supporter of the Valley Baseball League. He has sent a multitude of players to the league for various teams over the years. He also Coached for the Front Royal Cardinals for a few seasons.
Welcome to the Valley Baseball League Hall of Fame Coach Gilmore!! Also, keep sending all that Chanticleer talent to VA and the VBL.