The final All-Valley Team is the All-Defensive Team. This award is meant to highlight the defensive prowess of the players throughout the league. Unlike the other awards, this award is chosen from throughout the league as a whole, so all 12 VBL franchises are lumped together. The selections were made from the voting members of the VBL franchises. So, congratulations to the players on this list as you have made a name throughout the league for your defensive ability.
ALL-Valley Defensive Team
Catcher

Jose Torres (Purcellville Cannons)

First Base

Alexander McCoy (Waynesboro Generals)

Second Base –Tied as two players received the same number of votes.

Brice Martinez (Charlottesville TomSox)
Cameron Harris (Harrisonburg Turks)

Shortstop

Jancarlos Colon (Winchester Royals)

Third Base

Joey Parliment (Staunton Braves)

Outfield

Joe Delossantos (Strasburg Express)
RJ Stinson (Woodstock Riverbandits)
Tomas Sanchez (Woodstock Riverbandits)
Defensive MVP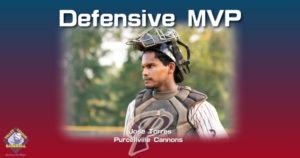 The last two seasons the Valley League has been blessed to have one of the finest defensive catchers in the nation play in our league. The 2023 Valley League Defensive MVP is awarded to Jose Torres of the Purcellville Cannons. It is the second year in a row that Torres has won the award. This year Jose received 1st place votes from 5 of 12 VBL Teams, with no one else getting more than 2 votes.
Jose provides stability and an uncanny ability save runs for his staff to the Cannons every time he dons the Tools of Ignorance and takes his place behind the dish. Torres has been affectionately nicknamed, "The Panamanian Panther" by Cannons GM and 3rd Base Coach Ridge Fuller for his ability to "pounce like a jungle cat on the ball and recover with the ability to then throw out an advancing runner." Torres has an in-game Pop time on average of 1.87 sec. Now that isn't the pop times you see in the showcases. He is one of the best catch-and-throw guys in the league. His ability to limit the running game combined with his pitch callings and ability to block sets him apart from other catchers in the game.
Coming to the Cannons from the Ravens of San Jacinto College in Houston, Torres came billed as a premiere defensive catcher with the ability to hit for average. In 2023, Torres did just that. Over the course of 30 Games for the Cannons, Jose hit an outstanding .407 with 6 Doubles, 1 Triple, and 20 RBI. He demonstrated his keen eye with a 24/14 BB/K. In his 2 years with the Cannons including playoffs, Torres has hit .353 over 48 games and 136 At-Bats.
Congratulations to Jose Torres for his outstanding glove work the last two years here in the Valley. Jose has one more year of Summer ball eligibility, so I know the League and the Cannons are hoping you make a run for Defensive MVP Number Three.