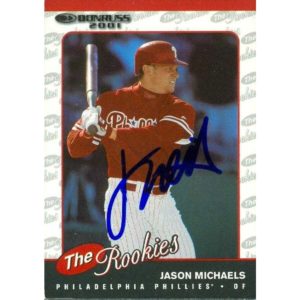 Another former Staunton Brave is being inducted into the Hall of Fame this year, as Jason Michaels makes the list. Michaels was a part of the Miami-Staunton pipeline that was common during the 1990s under Jim Morris' leadership of the Hurricanes. During his time in Miami, Jason Michaels was an offensive powerhouse. He hit .411 with 15 Home runs, 89 RBIs, and showed off his power/speed combo with 14 Stolen Bases during the 1997 season. During that '97 season, Jason set the University of Miami records for Hits (106), Doubles (32), and Total Bases (189). He followed his record year of'97 by hitting .378 with 19 Home Runs, 65 RBI, and 18 Stolen Bases. So, during his time at the "U," Michaels was a career .396 hitter with 34 Homeruns, and 154 RBI.
After the '98 season, Jason was drafted in the 4th round by the Philadelphia Phillies–it was his fourth time being drafted during the MLB draft. He made his MLB debut with the Phillies in 2001 on April 6th. He remained on the Phillies 25man roster from 2002-2005 primarily as a reserve outfielder and pinch hitter. In his 808 at-bats with the Phillies, he hit .291 with 21 home runs and 100 RBI.
In 2006, Michaels was traded to his second team–The Cleveland Indians. With the Indians, he was the everyday Left Fielder and hit second in the lineup behind Grady Sizemore. That same year, Jason was also the Indians nominee to be the recipient of the Roberto Clemente Award–given to a major leaguer who best exemplifies a commitment to community service.
Jason Michaels spent his 11-year Big League career with 4 Clubs–The Philadelphia Phillies (2001-2005), The Cleveland Indians (2006-2008), The Pittsburg Pirates (2008), and The Houston Astros (2009-2011).
Welcome the VBL Hall of Fame Jason!!