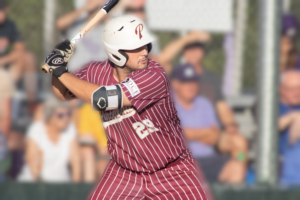 The Valley Baseball League is proud to present the MVP and Pitcher of the Year for 2023. This year's Recipient of the Most Valuable Player is First Baseman/DH Ryne Guida of Florida International University and the Purcellville Cannons. Ryne won the award last season in 2022 and is the first two-time winner of the award since Daniel Murphy is 2004 and 2005.
For much of the year, Guida was flirting with breaking the all-time VBL record for Batting Average but fell short of the record by a mere 13 points. While he didn't break the record, he led the league with a .425 batting average over the course of 134 at-bats. Cannons Manager Brett Fuller describes Guida as, "a student of hitting. He works counts to increase his odds of getting a pitch he can drive." It is his ability to work counts and his bat to ball skills that allow him to consistently be a top performer.
Last season, during his 2022 MVP run, Guida hit .396 with 1 HR and 19 RBI. He improved this season by jumping his average close to 30 points and clubbing 3 HRs and driving in 30 of his fellow Cannons. Guida was feared throughout the League as the bat that you cannot let beat you in the Cannons lineup. Despite this, Guida still managed to be one of the top hitters in the league. Manager Brett Fuller also had high praise for him, "Ryne is the first two-time MVP since Daniel Murphy…. He is the best pure hitter I've seen in the Valley League. [He] rarely strikes out and becomes lethal with two strikes. I am amazed at his ability to regularly barrel up balls." Coach Fuller isn't wrong in his assessment of Ryne. In his VBL Career, Guida has 250 At-bats in the league and his only been retired on strikes 24 times. In 2023, Ryne only K'd eight times in his 134 at-bats. Congratulations Ryne for the tremendous accomplishments you have made for yourself in the Valley this summer as well as last year. You are certainly in rarified air as a Two-Time MVP in the Valley Baseball League. Again, Congratulations Ryne!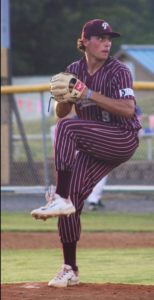 Moving on to the North Pitcher of the Year (POY) Award. It is with great honor that the VBL North POY is presented to Jaxon Dalena of Shippensburg University and the Purcellville Cannons. While the Cannons had a down year in 2023, they did seem to do a few things right. Namely signing Ryne Guide and Jaxon Dalena. While the Cannons may not have had the success they hoped for, Jaxon Dalena had quite a season for himself. Coming to the Cannons as a Center Fielder, Jaxon wasn't expected to take the hill for the Cannons. But, early in the season with limited pitching options available, Manager Brett Fuller asked Jaxon to take the mound and get some outs for his club.
Jaxon pitched in limited action for the Raiders of Shippensburg serving as a late inning option, late in his collegiate season. Early on this summer Dalena was used in a relief role but it quickly became apparent that he was going to be a great weapon for the Cannons on the mound. Coach Fuller on Dalena, "Jaxon is [a] gifted athlete. Signed as a position player, we asked him to focus on pitching. He quietly, but quickly became our Ace. Leading in virtually all team statistical categories, Jaxon proved to only get stronger as the season progressed. His [breaking ball] is devasting."
Jaxon was able to use that breaking ball to the tune of 48 strikeouts and a league leading 2.25 ERA among qualified pitchers in 40 innings of work. His 40 Innings Pitched also lead the VBL. Dalena's finest outing came in his last game when the Cannons season was on the line and fighting for a potential playoff spot on July 25th. Dalena's Cannons traveled to Covington to take on the Lumberjacks in a double header. Jaxon took the hill in game one and never relinquished the ball. He went the distance with a 7-inning complete game while only giving up 1 unearned run and striking out 7. Congratulations to the 2023 North Pitcher of the Year–Jaxon Dalena!