***Note: As PG announces more All-Conference, we will update as needed.
As the season approaches, everyone is ajitter with anticipation for the excitement that comes with Spring Baseball. Like many baseball fans across the nation, we here at the Valley League feel no different. Not a day passes that we aren't looking for information about past, present, and future VBL players. So, without further ado, let us get into the members of the All-Conference Teams.
All-Conference ACC
Rhett Lowder–Wake Forrest (Strasburg Express-2021)
First, hailing from the Demon Deacons of Wake Forrest, is former Strasburg Express RHP Rhett Lowder.  Lowder is no stranger to awards and his remarkable performances in the Valley led to him being named the 2021 #1 Starting Pitcher in the Valley by All Things Valley League. The 6'2″ RHP went 2-0, 2.36 in 19 total innings in 2021 with a .134 BAA, 0.579 WHIP, 0.9 BB/9, and 12.8 K/9. Rhett a native of Albemarle, NC; flashed his dominance of the Valley by throwing a combined No-Hitter on July 15, 2021–against the Purcellville Cannons. In that game, he went 6.0 IP while striking out 10.
Once back in the Black and Gold of Wake Forrest, he continued to pitch brilliantly. In 2022, Rhett pitched to a 11-3 Record with a 3.08 ERA, 99.1 total innings pitched, 105 Strikeouts, with a paltry .239 BAA. He was named the ACC Pitcher of the Year (A first in Wake Forrest program History), 2022 Unanimous All American, 2022 First Team All-ACC, and was a member of the 2022 USA Baseball Collegiate National Team.
Rhett has been named as the #14 Overall Prospect for the 2023 MLB Player Draft by MLB.com.
Jack Hurley–Virginia Tech (Charlottesville TomSox-2021)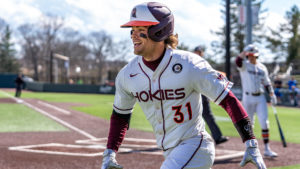 Another member of the 2022 USA Baseball Collegiate National Team is Virginia Tech Outfielder Jack Hurley. Hurley playing for the TomSox in 2021, he went 10-42 with 7 RBI. Once he returned to Blacksburg, Hurley hit another level. For the Hokies, Hurley hit .375/.452/.664 in 232 ABs, with 23 Doubles, 14 Home Runs, 55 RBIs, a 32/51 BB/K, and stole 10 Bags. He was subsequently named All-ACC First Team.
Jack has been named as the #37 Overall Prospect for the 2023 MLB Player Draft by MLB.com; and the #3 Outfield Prospect according to D1baseball.com Power Rankings of Outfielders.
Cooper Ingle–Clemson (Charlottesville TomSox-2021)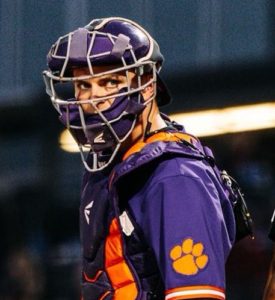 There must be something about the TomSox in 2021 that led to their players having breakout years in 2022. Cooper Ingle is another TomSox player that took off to new heights in 2022 for his Clemson Tigers. In a very limited sample in the Valley, Ingle hit .250 over the course of 6 games. During the 2022 Spring Season for the Tigers, Ingle became one of Clemson's best hitters. In '22, he hit .351 with 52 Runs Scored, 13 Doubles, 8 Homeruns, a .526 Slugging Percentage, and a .449 OBP. This successful season led to him being named as the #8 Catcher according to D1baseball.com power rankings of Catchers released in April of that year.
All-Conference SEC 
Wyatt Langford–University of Florida (Charlottesville TomSox-2021)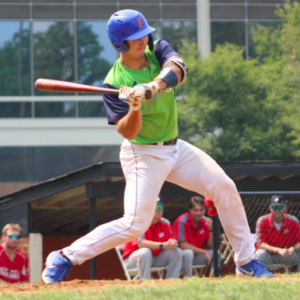 Yet another TomSox is present in the All-Conference Teams is Gator Superstar Wyatt Langford. After only getting 4 ABs at Florida prior to coming to the Valley League, Wyatt arrived in Charlottesville hungry and looking to get as many reps as possible before returning home. He did just that. Wyatt hit .345/.459/.527 over 110 at-bats, with 21 Runs scored, 20 RBIs, 7 Doubles, 2 Three-Baggers, and 3 Home Runs. His torrid summer was awarded as he was named the #10 Hitter in the Valley for 2021. But, looking at what he did upon his return to campus makes us believe he was only knocking off the rust in the Valley.
During the 2022 spring season, Wyatt exploded onto the College baseball scene: earning All-American honors by leading the SEC with 26 Home Runs while hitting at a .356/.447/.719 clip. He too was named to the 2022 USA Baseball Collegiate National Team and solidified is spot as one of the top hitters in all of College Baseball. Some believe him to be the possible #1 Overall Pick in the 2023 MLB draft. MLB.com ranks him as the #3 Overall Prospect for 2023.
All-Conference The American Athletic 
Carter Spivey-East Carolina University (Charlottesville TomSox-2021)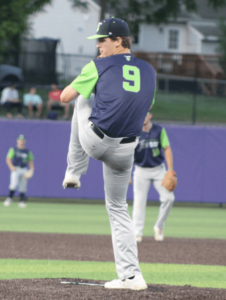 The run on 2021 TomSox continues with the 6-2 RHP Carter Spivey of East Carolina University. Carter went 2-0 with a 2.57 ERA in the summer of '21 for the TomSox with a .180 BAA, 1.000 WHIP, 3.2 BB/9, and 9.6 K/9 over 14 total innings pitched. The native of Aldie, VA was named as the #12 Reliever in the Valley by All Things Valley League following the '21 Season.
For the Pirates in 2022, Spivey appeared in 35 games while starting 2 of them. In his 76.1 total innings pitched over those 35 games, Spivey compiled an outstanding 8-0 record and an ERA of 2.83 while striking out 76 and walking 19 batters. His 35 appearances ranked eighth nationally, 47th in victories and 54th in ERA. His 2022 accolades included being named third team Collegiate Baseball All-American, ABCA All-Atlantic Region Team, NCBWA Stopper-of-the-Year finalist, American Athletic Conference Pitcher of the Year, All-American Athletic
Conference First Team, and All-NCAA Greenville Regional Team.
All-Conference Big 12
Elijah Nunez- Texas Christian University (Charlottesville TomSox-2021)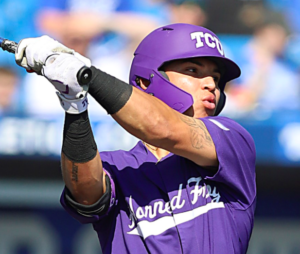 Well, you guessed it…Another TomSox from the '21 Season. It's no surprise that the '21 TomSox were so successful now that the star power becomes evident with time. This time we have TCU Outfielder Elijah Nunez being named to the preseason All-Conference Team for the Big 12.
While Nunez only played in 13 games for the loaded TomSox–hitting .250 with 5 RBIs– He did see significant time for the Horn Frogs during his sophomore campaign. He played in 60 games while starting 59 of them. He hit .287 on the year with 7 Doubles, 4 Triples, and 1 Homerun. He ranked eighth nationally with 58 walks and tied for 17th nationally with 31 stolen bases.  He was named as a 2022 Honorable Mention All-Big 12 and was on the 2021 Big 12 All-Freshman Team.
Brayden Taylor- Texas Christian University (Charlottesville TomSox-2021) *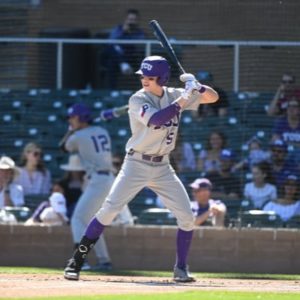 The TomSox almost had another big splash in C-ville for the 2021 Season. Brayden didn't make it to the VBL as he was scooped up by The Cape Cod League following his school season.
In 2022 for the Horn Frogs, Taylor hit .314 over 210 at-bats, 13 Home runs, 14 Doubles, with 50 RBIs and was a perfect 10 for 10 in stolen bases. He was a bit of an under-the-radar kind of guy coming from Utah, but he has done enough at TCU that he is expected to be the First Position player selected in the First Round of the MLB Players Draft in University Program History. Following the 2022 season, he was selected to be a member of the USA Collegiate Baseball National Team. Taylor was selected as 2nd-Team All-Big 12 in addition to his slew of awards from his 2021 campaign. He is ranked at the #11 Overall Amateur Prospect by MLB.com for the 2023 MLB Draft.
All-Conference SWAC
Ty Hill- Jackson State University (Purcellville Cannons-2021)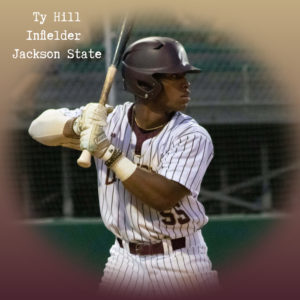 Making All-Conference for the SWAC from Jackson State University and The Purcellville Cannons is MIF Ty Hill. Ty played for the Cannons in 2021 and hit .200 over 80 at-bats with a Home Run and 4 Doubles.
Ty has put together quite the resume for himself at Jackson State. He is a career .406 hitter with 6 Home Runs, 9 triples, 33 Doubles and 84 RBIs. During the 2022 season, Hill posted a .392 batting average, scored 58 runs and tallied 78 hits. Following the season, Ty was named to the 2022 Southwestern Athletic conference All-League Team.
Robert Moya- Bethune-Cookman University (Purcellville Cannons-2021) *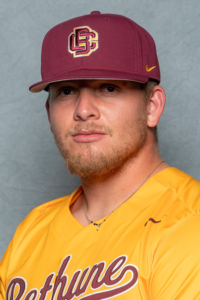 Moya was signed to the Cannons in 2021 but was unable to make it to the VBL due to injury.
Moya was an absolute force at the plate for the Yetis of Clevland Community College. Robert hit .350 with 11 HRs, 11 Doubles, 41 RBI. He evidenced his great approach and batting eye by drawing 48 walks while striking out only 26 times in 137 at-bats.
All Conference SOCON
Ryan Galanie-Wofford College (Strasburg Express-2021)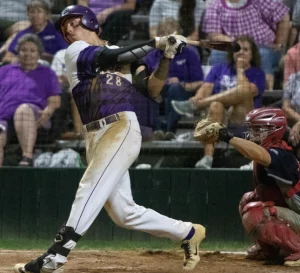 The Express are back on the board with the naming of Ryan Galanie to the All-SOCON preseason team. Galanie was one of the best, if not the best hitter in a very impressive lineup for the 2021 Strasburg Express. During the regular season of the VBL, Galanie hit .383/.481.617 in 128 at-bats with 7 Home runs, 26 RBIs, and 42 Runs scored. He even tallied 19 Stolen Bases in 24 attempts. Ryan was named as the #2 Hitter in the VBL that summer by All Things Valley League and etched his name in the tomes of the VBL record books 1994-2021–His combined AVG of .399 (Regular season and Playoffs) is tied for 15th, his total OBP of .495 combined is also tied for 15th, and his total combined runs scored of 54 is 3rd All-time.
While Galanie didn't see a lot of action at Wofford prior to his time in Strasburg, he returned to his college with the confidence he needed to take the reins and solidify his position in the Terrier lineup. 2022 was a colossal year for Galanie. He hit .329 with 17 home runs, 59 RBIs, and 66 runs scored in 59 games. He led his team in OPS (1.090), Runs (66), Triples (5), Home Runs (17), RBIs (59), Total Bases (143), and Slugging percentage (.653).
All-Conference ASUN
Alejandro Figueredo- Florida Gulf Coast (Waynesboro Generals-2021)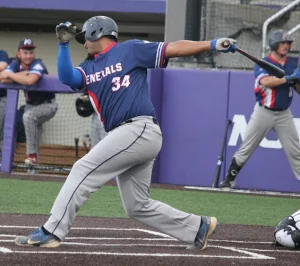 The 6-3, 240lbs Big Man from Sucre, Venezuela– Alejandro Figueredo, is not only the next All-Conference player to be announced; he is predicted by Perfect Game to be the Player of the Year for the ASUN Conference. Alejandro came to Waynesboro by way of Florida Gulf Coast University and proceeded to be a very solid hitter in the General's lineup. In the 37 games he played during the regular season, he Figueredo hit .303 with 2 Home runs, 2 Triples, and 4 Doubles while driving in 26 Runs over the course of 119 at-bats.
Like so many of the guys mentioned so far in this list, Alejandro proceeded to blossom upon returning to their respective college or university. During the 2022 season, he swatted 13 home runs, 21 doubles, and 1 triple while hitting an absurd .392 in 232 at bats. Another aspect he excelled in was plate discipline. He maintained a 1:1 BB/K ratio with 36 walks and 36 strikeouts. He led his team in OPS with 1.135, hits (91), Slugging percentage (.659), and was tired for first with 153 total bases. He was named a Collegiate Baseball News Third-Team All-American, ABCA All-Southeast Region Second Team, and All-ASUN First Team. He became the first player in program history to hit 3 Home runs in one game, doing so on May 20th, 2022, against North Florida while also driving in 6 RBIs.
All-Conference CUSA 
Cole McConnell-Louisiana Tech University (Front Royal Cardinals-2021)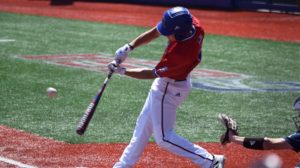 The 6-1, 200 lbs. Outfielder from Beaumont, TX–Cole McConnell–joins the list. McConnell played 10 games in the Valley during the 2021 season for the Front Royal Cardinals. The Lefthand Hitting Outfielder from LA Tech was one of the best players in the league during his 10-game stretch. In those 10 games, McConnell hit .342 with 2 home runs, 4 doubles, 8 RBIs, and scored 13 runs over 38 at-bats for the Cardinals. Cole also had a multi-hit game in 5 of his 10 games played, with his most hits coming in a 17-10 defeat at the hands of the Woodstock Riverbandits on June 21st.
During the 2022 season for LA Tech, Cole started all 64 games that he played. He hit .336 with 9 home runs, 24 doubles, and driving in 76 runs. His 76 RBIs and 24 doubles were good for leading the team in both categories. His performance during the season preceded him being named First-Team All-Conference USA. He earned ABCA/Rawlings Second-Team All-Region honors. The 76 RBIs that he drove in set a new single season record at LA Tech and was ranked 13th in the nation. His 24 Doubles also led the Conference USA. Cole had a multi-hit game 29 times during the season, and he had a 26 game on base streak as well.
All-Conference Southland
Miguel Useche- University of New Orleans (Waynesboro Generals-2022)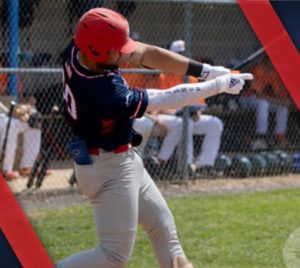 Miguel Useche, a native of Caracas, Venezuela and Catcher at the University of New Orleans was named to the All-Conference team for the Southland Conference. Useche spent most of the summer this past year in Waynesboro as a member of the Generals. Miguel appeared in 20 games for the Generals collecting 6 hits and drawing 12 walks, while also stealing 5 bases.
In the spring of 2022, Useche appeared in 47 games for the Privateers collecting 49 hits, 16 doubles, 3 home runs, and 34 RBIs over 170 at-bats: good for a .288 batting average. Miguel was named to the All-Tournament team for the Southland Conference during the postseason tournament.
Brad Burckel- McNeese State University (Waynesboro Generals-2019)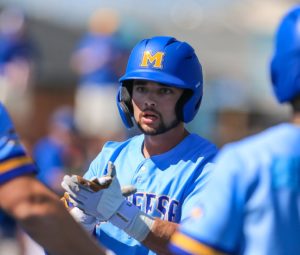 Brad Burckel joins the last as the elder statesman of the VBL–having played for the Generals all the way back in 2019. The lefthand hitting infielder played in 27 games for Waynesboro during the regular season. Brad hit .246 on the year with 4 doubles, 2 triples, and 9 RBIs. He also stole 6 bags while amassing 61 total at-bats during his General's tenure.
For McNeese in 2022, Burckel was a hit machine. Brad hit .373 on the year with 10 home runs, 17 doubles, 3 triples, 44 RBIs, and was 18 for 18 in stolen base attempts. His 1.077 OPS led the team, while he was tied for 1st in HRs and RBI. He also led the team in Total Bases (134), Doubles (17), Runs scored (62), Slugging percentage (.618), and On-Base Percentage (.459). His stellar performance led to him being named to the 2022 All-Southland Conference Second-Team and the All-Southland Conference Defensive Team.