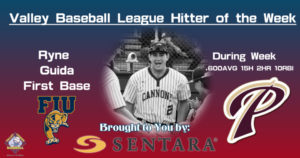 This Weeks Hitter of the Week is Purcellville Cannons Offensive Juggernaut, Ryne Guida. During the last 7 Days, Ryne is Hitting .600 with 15 Hits, 2 HRs (One being a Gland Slam), and 10 RBI for the Cannons.
Ryne was the 2022 Northern Division MVP last season and is on pace to repeat as this season's MVP. He is currently hitting .481 on the season over 106ABs. Congratulations Guida on being one of the best hitters in Valley League memory.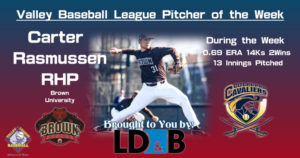 This Weeks Pitcher of the Week comes from Brown University and the Culpeper Cavaliers–Carter Rasmussen. The Big RHP went 2-0 on the Week while striking out 14 opposing hitters over 13 Innings Pitched.  Carter has been a main stay in the Cavaliers Starting rotation this summer. Congratulations on this weeks accomplishment Carter!